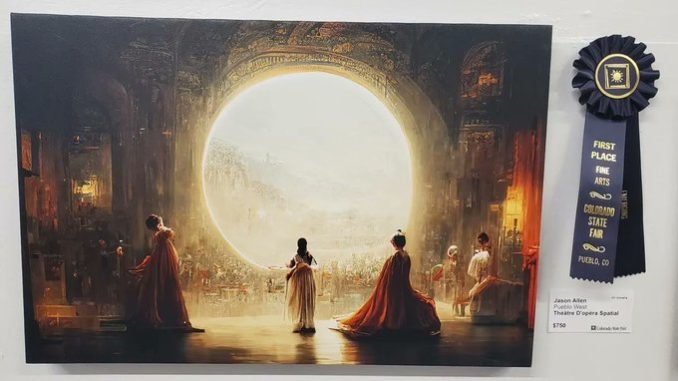 Jason Allen's AI-generated work "Théâtre D'opéra Spatial" took first place in the digital category at the Colorado State Fair.
A man came in first at the Colorado State Fair's fine art competition using an AI generated artwork on Monday. "I won first place," a user going by Sincarnate said in a Discord post above photos of the AI-generated canvases hanging at the fair.
Sincarnate's name is Jason Allen, who is president of Colorado-based tabletop gaming company Incarnate Games. According to the state fair's website, he won in the digital art category with a work called "Théâtre D'opéra Spatial." The image, which Allen printed on canvas for submission, is gorgeous. It depicts a strange scene that looks like it could be from a space opera, and it looks like a masterfully done painting. Classical figures in a Baroque hall stair through a circular viewport into a sun-drenched and radiant landscape.
But Allen did not paint "Théâtre D'opéra Spatial," AI software called Midjourney did. It used his prompts, but Allen did not wield a digital brush. This distinction has caused controversy on Twitter where working artists and enthusiasts accused Allen of hastening the death of creative jobs.
"TL;DR — Someone entered an art competition with an AI-generated piece and won the first prize," artist Genel Jumalon said in a viral tweet about Allen's win. "Yeah that's pretty fucking shitty."