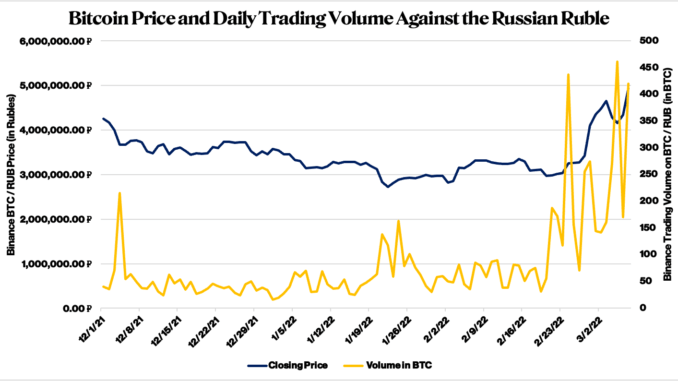 Where are the sanctions-evading crypto use cases? Surely by this point we'd see something around that, right?
One of crypto's purported use cases is as an uncensorable, stateless means to store and transact value. We're sort of seeing that play out in Ukraine. We aren't seeing another use case play out at all in Russia – at least, not yet.
Crypto faces another defining moment as lawmakers and users literally worldwide consider its uses – real and potential – in the Russian invasion of Ukraine. It will be an interesting test for the sector.
This particular newsletter originated on Saturday night when I was getting drinks with my colleague Danny Nelson
We have heard a lot over the last week that crypto is not being used to undermine international sanctions against Russia or breakaway regions of Ukraine, and my question is: Why on Earth not? The whole idea of crypto is that it is supposed to be a stateless form of money or store of value, one that allows you to maintain your fiscal resources outside of the government or outside of any government entity. It's supposed to be a flight to safety when normal payment rails cut you off or make it difficult for you to keep on as you were.
Evading sanctions would seem to be a perfect use case for this, no? And yet this doesn't seem to be happening on any appreciable scale. The U.S. government has even gone out of its way to say this isn't happening. Todd Conklin at the U.S. Treasury Department recently told TRM Labs' Ari Redbord in a webinar that crypto isn't being used as a tool to evade sanctions, at least not in Russia at this time.
The Financial Crimes Enforcement Network (FinCEN), the Treasury Department's money-laundering watchdog, supported that view yesterday by publishing a statement warning that while individuals might turn to cryptocurrencies to bypass sanctions, the Russian government doing so "is not necessarily practicable."