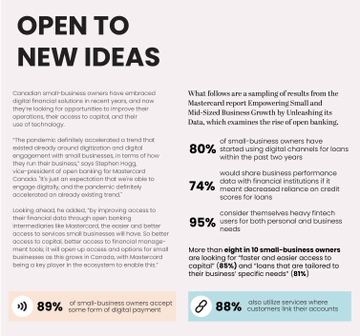 The pandemic pushed small-business owners to adopt new digital solutions, many of them enabled by open banking. Now that they have a higher degree of comfort using these financial tools, they are looking ahead to their next opportunities.
Mastercard's recent report, Empowering Small and Mid-Sized Business Growth by Unleashing its Data, found that Canadian small-business owners are more open to solving business challenges using digital financial solutions than ever before.
Small businesses are now faced with continuing hurdles related to inflation, acquiring customers, hiring staff, managing operations and accessing capital. Open banking offers a wide range of innovative options to companies that are open to utilizing new technologies.
Banks and other financial institutions can securely share data with third-party providers, giving small-business owners access to new tools and resources. Fintech providers can leverage that data to reduce their reliance on credit scores in the underwriting process, they can provide analytics to help businesses better manage their operations, and they can link accounts to streamline billing, invoicing and payment processes, to name just a few examples.