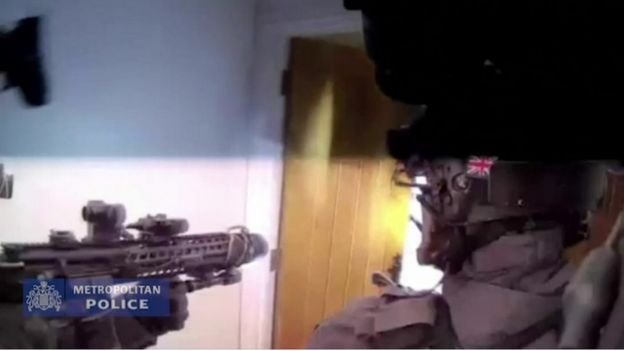 A top-secret communications system used by criminals to trade drugs and guns has been « successfully penetrated », says the National Crime Agency.

The NCA worked with forces across Europe on the UK's « biggest and most significant » law enforcement operation.

Major crime figures were among over 800 Europe-wide arrests after messages on EncroChat were intercepted and decoded.

More than two tonnes of drugs, several dozen guns and £54m in suspect cash have been seized, says the NCA.

While the NCA was part of the investigation, it was initiated and led by French and Dutch police, and also involved Europol – the EU agency for law enforcement cooperation.

Wil van Gemert, deputy executive director of Europol, told a press conference in the Hague that the hacking of the network had allowed the « disruption of criminal activities including violent attacks, corruption, attempted murders and large-scale drug transports ».

The NCA says the Europe-wide operation, which lasted over three months and involved police forces across the UK, has had the biggest impact on organised crime gangs it has ever seen, with 746 UK arrests, including two law enforcement officers.

The Metropolitan Police Commissioner, Dame Cressida Dick, whose force made 171 arrests and seized £13.3m in cash, described it as a « game changer ».

She said: « This is just the beginning. We will be disrupting organised criminal networks as a result of these operations for weeks and months and possibly years to come. »

Nikki Holland, NCA director of investigations, said the operational team had described it « as akin to cracking the enigma code ».

« They see this as that significant in terms of getting that inside information, effectively having a person inside an organised crime group telling us what they're up to, » she said.

'Criminal marketplace'

An estimated 60,000 people, among them up to 10,000 in Britain, subscribed to France-based EncroChat, which has now been taken down.

The system operated on customised Android phones and, according to its website, provided « worry-free secure communications ».

Customers had access to features such as self-destructing messages that deleted from the recipient's device after a certain length of time.

Image copyright

Essex Police

Image caption

There was also panic wipe, where all the data on the device could be deleted by entering a four-digit code from the lock-screen.

The NCA says the messaging system has been used as a « criminal marketplace » to co-ordinate the supply of Class A drugs across the world, and import weapons including assault rifles, sub-machine guns, shotguns, pistols and hand grenades.

Law enforcement agencies began getting data from the site on 1 April after the encryption code is believed to have been cracked in March.

Gangs are also believed to have used the handheld devices to plot attacks on rival groups, plan ways of enforcing drug debts and arrange for money to be laundered.

Threats to life detailed on the site included acid attacks and threats to chop off limbs.

Dozens of organised crime groups have been dismantled, says the NCA, with the bulk of arrests in London and north-west England.

Lockdown « worked in our favour », says the agency, in that many more suspects were at home when they were raided.

Many of those arrested are said to form the « middle tier » of crime gangs while some are described as the « Mr and Mrs Bigs » of the underworld.