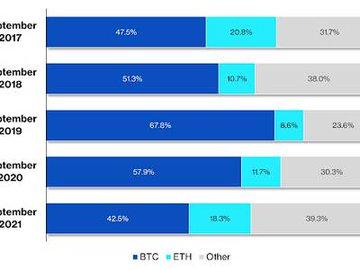 The original blockchain still reigns, but neither Bitcoin nor its closest competitor, Ethereum, can count on becoming the only game in town any time soon.
On Tuesday, CoinDesk Research will drop its Quarterly Review for Q3, featuring 60 slides jam-packed with insights, analysis and data. For me, one of the takeaways is that like it or not, we live in a multi-chain world.
You're reading Crypto Long & Short, our weekly newsletter featuring insights, news and analysis for the professional investor. Sign up here to get it in your inbox every Sunday.
For example, the report notes that in September bitcoin dominance – that is, the original cryptocurrency's share of total crypto market capitalization – was 42%. That's the lowest it's been at that point in the year in any of the previous four years.