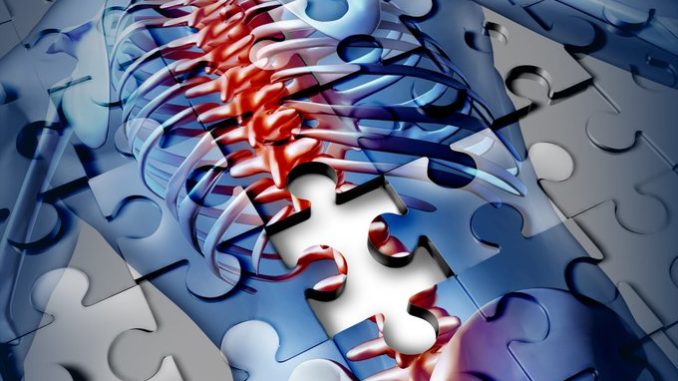 Rocatti had lost all feeling and motion in his legs after the motorbike crash. But thanks to electrodes implanted in their spines in experimental surgery in Lausanne, Switzerland, he and two other young men (29–41) were able to "to stand, walk, ride a bike and even kick their legs in a swimming pool" again. (Guardian) He is slow and unsteady but he is walking.
The implant provides a bridge between the brain and the nerves that are severed from it:
When prompted, the device sends activity-specific pulses of electricity to various nerves that were cut off from the central nervous system, allowing the Rocatti and other paralyzed people to send the appropriate stimulation and instructions to their legs. Rocatti and the other two participants in an ongoing clinical trial were able to stand, walk, use bicycle pedals, and kick their legs in a swimming pool within hours of having the flexible, multi-electrode device embedded into their spines, according to research published Monday (February 7) in Nature Medicine. The device and software, developed by researchers at Lausanne University Hospital and the Swiss Federal Institute of Technology (EPFL) in Lausanne, significantly reduce the time between surgical implantation and a patient taking their first steps compared to other treatments or robotic exoskeletons, which can require extensive training to use.

DAN ROBITZSKI, "WITHIN HOURS, SURGICAL IMPLANT LETS PARALYZED PATIENTS WALK" AT THE SCIENTIST (FEBRUARY 8, 2022) THE PAPER IS CURRENTLY OPEN ACCESS.