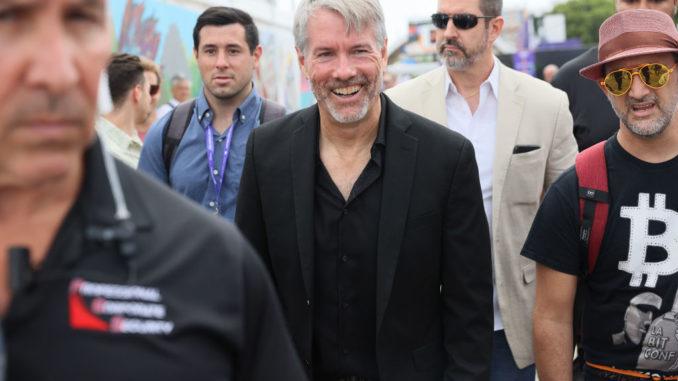 MicroStrategy (MSTR) reported a non-cash digital asset impairment charge of $146.6 million in the fourth quarter, up from $65.2 million in the prior quarter, according to its latest earnings statement.
The impairment reflects the decline in the price of bitcoin versus the price at which the bitcoin was acquired. Under standard accounting rules, the value of digital assets such as cryptocurrencies must be recorded at their cost and then only adjusted if their value is impaired, or goes down. But if the price rises, that does not get reflected until an asset is sold.

For 2021, MicroStrategy posted total digital asset impairment losses of $831 million, versus $71 million in 2020.

The company's 124,391 bitcoins held at the end of Dec. 31, 2021, were acquired for $3.752 billion, reflecting an average cost per bitcoin of approximately $30,159, the company reported.

MicroStrategy reported on Tuesday morning that it bought approximately 

660 additional bitcoins for around $25 million 

between Dec. 30, 2021, and Jan. 31, 2022. This gives the company a total of 125,051 bitcoins, valued at about $4.8 billion at the current bitcoin price of $38,700.

The SEC recently objected to MicroStrategy's 

accounting adjustment for its bitcoin

 holdings. The company later told the commission that it would "revise its disclosures of non-GAAP measures in future filings to remove the adjustment for impairment losses and gains on sale related to bitcoin, as requested by the Commission."

On its earnings call Tuesday, MicroStrategy's CFO Phong Le said the company expects an additional significant impairment charge during the first quarter of 2022 given bitcoin's volatility. Le added that MicroStrategy is working with other companies and various agencies to « determine a more appropriate accounting framework for digital assets. »

Le says MicroStrategy's balance sheet can weather any headwinds as no debt is coming due until December 2025.

Shares of MicroStrategy were down about 1% in after-hours trading. Shares have fallen around 33% over the last month.