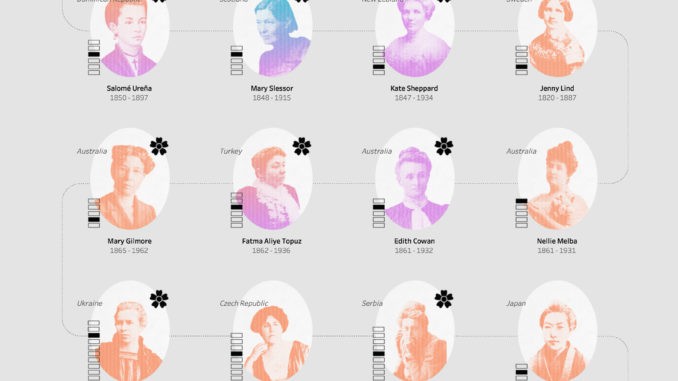 Visualizing the Women on Banknotes Worldwide
A study by Swedish loan company Advisa analyzed 1,006 current international banknotes and found that only 15% featured images of women.
Who are these women, and which countries feature them on their bills?
This graphic by Ivett Kovács and Gabrielle Merite visualizes women on banknotes around the world, showing their main occupations, and the value of the banknotes they're featured on.
The List: Women on Bills
To create this graphic, Ivett used data from the Standard Catalogue of World Paper Money, compiled by Vox.
According to the dataset, Queen Elizabeth II is the most featured woman worldwide.
anada was the first country to use an image of Queen Elizabeth II on their money. In 1935, Canada printed her on a $20 banknote—the British monarch was only a 9-year-old princess at the time. Now, Queen E appears on a variety of different banknotes in 19 different countries. In the Cayman Islands, she's on their $1, $5, $25, $50, and $100.
A few other queens or royal members have made it onto different banknotes too—Georgia's 50 lari note has an image of Queen Tamar, who was the Queen of Georgia from 1184 to 1213, and Albania's 100 lekë features Queen Teuta, a 3rd century queen of an Illyrian tribe.
While royals (especially Queen Elizabeth II) are frequently featured on bills worldwide, women in other positions have also made it onto banknotes.
Authors, singers, poets, and painters are featured on a number of different currencies. For instance, Sweden has Astrid Lindgren—the author of Pippi Longstocking—on their 20 kronor.
Sweden also features three other women on their bills: Birgit Nilsson, Jenny Lind, and Greta Garbo, making their banknote features an even 50/50 split between men and women.