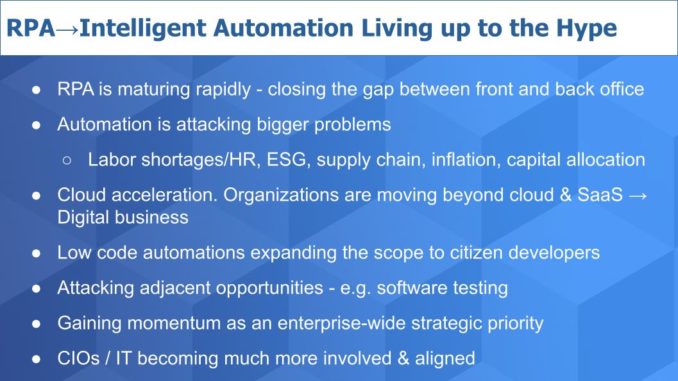 In its early days, robotic process automation emerged from rudimentary screen scraping, macros and workflow automation software. Once a script-heavy and limited tool that was almost exclusively used to perform mundane tasks for individual users, RPA has evolved into an enterprisewide megatrend that puts automation at the center of digital business initiatives.
In this Breaking Analysis, we present our quarterly update of the trends in RPA and share the latest survey data from Enterprise Technology Research.
RPA has evolved to intelligent automation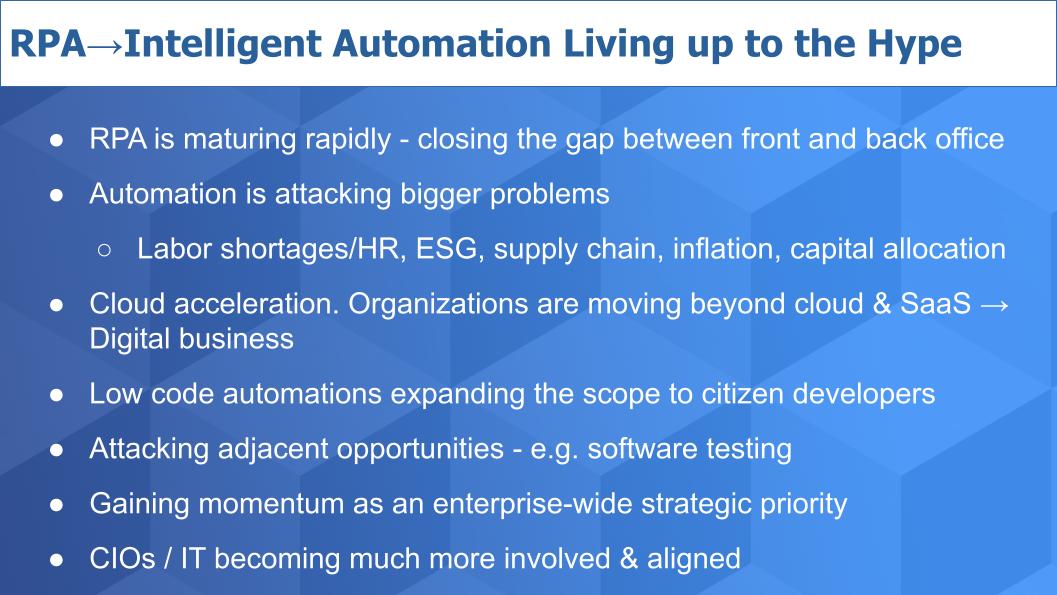 RPA is maturing. has grown quite rapidly and the acronym is becoming a convenient misnomer in a way. The new momentum in RPA is around enterprisewide automation initiatives. Once exclusively focused on back office automation in areas such as finance, RPA has now become an enterprise transformation catalyst for many larger organizations. Initially focused on cost savings in the finance department and other back-office functions, RPA has moved beyond the purview of the chief financial officer.
RPA is attacking new problems. We predicted in early Breaking Analysis episodes that productivity declines in the U.S. and Europe especially would require automation to solve some of the world's most pressing problems. And that's what's happening. Automation today is attacking not only the labor shortage but its supporting optimizations in environmental, social and corporate governance or ESG, supply chain, helping with inflation challenges and improving capital allocation. For example, dealing with the supply chain issues of today require research, inventory management, prioritizations, price matching and other complex and time-consuming processes. The combination of RPA and machine intelligence is helping managers compress the time to value and optimize decision-making.
Cloud migration is an accelerant to digital business. Organizations are moving to the cloud and building new capabilities on top. A digital business goes beyond cloud and software as a service and puts data, artificial intelligence and automation at the core, leveraging cloud and SaaS, but it reimagines entire workflows and customer experiences.
Low-code expands the total addressable market. Moreover, low-code solutions are taking off and dramatically expanding the ability of organizations to make changes to their processes.
RPA is disrupting adjacent markets. We're also seeing adjacencies to RPA becoming folded into enterprise automation initiatives and that trend will likely continue. For example, legacy software testing tools are being disrupted. This is especially important as companies cloudify and SaaS-ify their businesses and look for modern testing tools that can keep pace with their transformations.
Strategic priority with more CIO involvement. RPA or intelligent automation has become a strategic priority for many companies. And that means involving the chief information officer to ensure that the governance and compliance edicts of the organization are met; and that alignment occurs across technology and business lines.