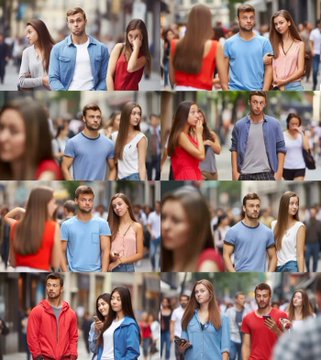 Even though you've seen it a million times already, we can't illustrate this story with Shutterstock photo number 297886754. The image (best known as the distracted boyfriend meme) is owned by photographer Antonio Guillem and is not included in our Shutterstock licence. What we can do is feed Guillem's photo into the Midjourney AI image generator, which creates a limitless number of distracted boyfriends:
Please use the sharing tools found via the share button at the top or side of articles. Copying articles to share with others is a breach of FT.com T&Cs and Copyright Policy. Email licensing@ft.com to buy additional rights. Subscribers may share up to 10 or 20 articles per month using the gift article service. More information can be found here.
https://www.ft.com/content/faa4b3ca-d3c7-44a8-aafe-f84ceec785d4
s the above a breach of copyright? Well, who knows. Creating derivative works from a protected image seems intuitively wrong on two levels, but technology has outpaced the scope of laws as well as the capacity for artists to pursue legal action. For NYSE-listed Shutterstock, this legal grey area has become central to its business. The company licenced its stock image library to OpenAI in 2021 (though the deal was only announced last October, in combination with a revenue warning). Earlier this year, Shutterstock added text-to-image generation to its website using a version of OpenAI's Dall-E 2 tool.