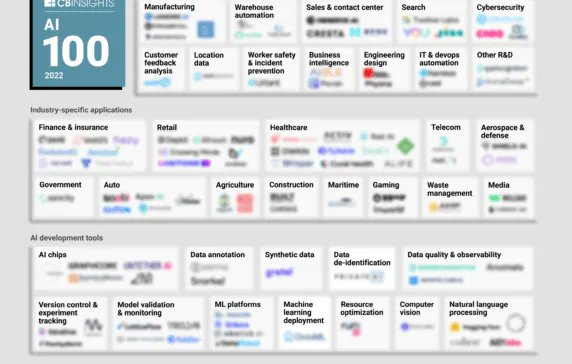 The AI 100 is CB Insights' annual list of the 100 most promising private AI companies in the world. This year's winners are working on diverse solutions designed to recycle plastic waste, improve hearing aids, combat toxic online gaming behavior, and more.
Some of this year's winners are advancing the development and use of artificial intelligence (AI) across specific industries — such as healthcare, gaming, and agriculture. On the other hand, some are developing applications to support sales, engineering design, cybersecurity, and other functions across a wide range of industries.
Additionally, a sizable portion of the companies in this cohort are developing tools, like machine learning (ML) platforms, to support AI development.
Using the CB Insights platform, our research team picked these 100 private market vendors from a pool of over 7K companies, including applicants and nominees. They were chosen based on factors including R&D activity, proprietary Mosaic scores, market potential, business relationships, investor profile, news sentiment analysis, competitive landscape, team strength, and tech novelty. The research team also reviewed thousands of Analyst Briefings submitted by applicants.