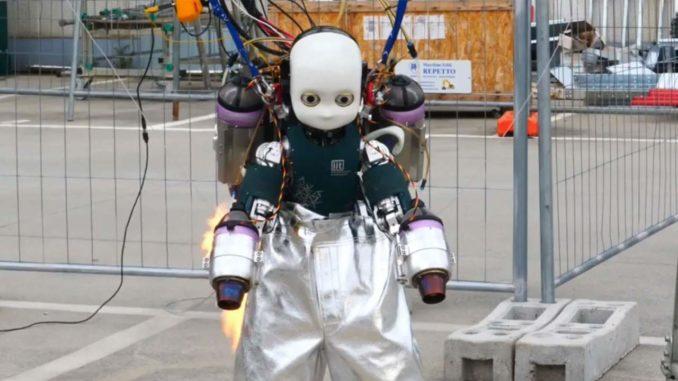 It's common for researchers around the world to conduct investigations into creating better drone aircraft. It's also common for researchers to conduct investigations into building better humanoid robots. What's not common is research that focuses on combining those technologies to create a humanoid robot, like iRonCub, that flies.
The flying humanoid robot iRonCub gives off more than a little Iron Man vibe. iRonCub has four jet engines, and the shiny silver pants seen in the image above were used to prevent the robot from setting its legs on fire. Eventually, those shiny, flame-resistant pants were replaced with flame-resistant plates to protect all the robot's mechanical innards.
iRonCub was created by researchers at the Center for Robotics and Intelligent Systems at the Italian Institute of Technology (IIT). One of the key aims for this project is making robotic aerial manipulation more robust and energy-efficient than ever before. As explained by Daniele Pucci, head of the Artificial and Mechanical Intelligence lab at the institute, the current most common solution for aerial manipulation is a quadrotor aircraft fitted with a robotic arm (via IEEE).