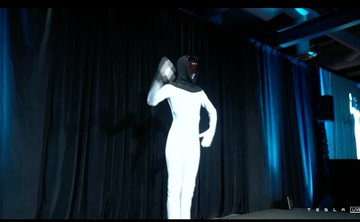 Elon Musk wants Tesla to be seen as "much more than an electric car company." On Thursday's Tesla AI Day, the CEO described Tesla as a company with "deep AI activity in hardware on the inference level and on the training level" that can be used down the line for applications beyond self-driving cars, including a humanoid robot that Tesla is apparently building.
Tesla AI Day, which started after a rousing 45 minutes of industrial music pulled straight from "The Matrix" soundtrack, featured a series of Tesla engineers explaining various Tesla tech with the clear goal of recruiting the best and brightest to join Tesla's vision and AI team and help the company go to autonomy and beyond.
"There's a tremendous amount of work to make it work and that's why we need talented people to join and solve the problem," said Musk.
Like both "Battery Day" and "Autonomy Day," the event on Thursday was streamed live on Tesla's YouTube channel. There was a lot of super technical jargon, but here are the top four highlights of the day.
Tesla Bot: A definitely real humanoid robot
This bit of news was the last update to come out of AI Day before audience questions began, but it's certainly the most interesting. After the Tesla engineers and executives talked about computer vision, the Dojo supercomputer and the Tesla chip (all of which we'll get to in a moment), there was a brief interlude where what appeared to be an alien go-go dancer appeared on the stage, dressed in a white body suit with a shiny black mask as a face. Turns out, this wasn't just a Tesla stunt, but rather an intro to the Tesla Bot, a humanoid robot that Tesla is actually building.