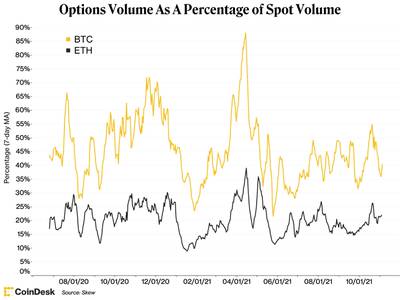 Higher options volume relative to spot is a sign of a developed market and can help with price discovery.
In one of the most iconic scenes in American TV history, Jan Brady complains to her parents about all the attention her sister receives. "Marcia, Marcia, Marcia … I'm tired of being in Marcia's shadow all the time," Jan whines to her mom on season 3, episode 10 of "The Brady Bunch" in 1971.
One could almost hear ether (ETH) kvetch in much the same manner about bitcoin (BTC).
After all, ether is up around 500% since Jan. 1 while bitcoin has only doubled in that time. Yet it's bitcoin that is legal tender in one country and has several futures-based exchange-traded funds (ETFs). And then some.
While they are in the same asset class, comparing bitcoin to ether is tantamount to comparing apples to oranges for those with more than a cursory understanding of crypto. It turns out the derivatives markets agree about the difference in at least one subtle way: the relative volume of ether options to the spot market compared to that of bitcoin.