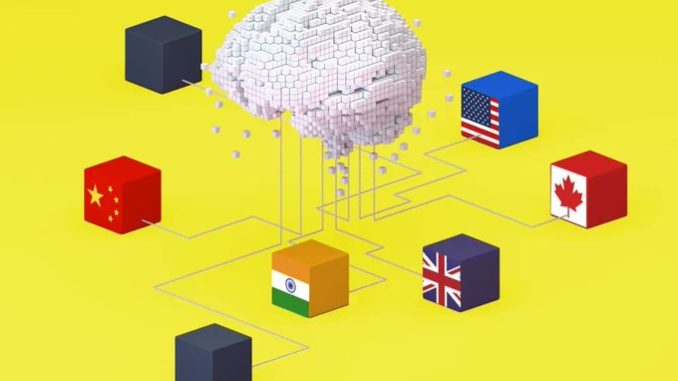 The United States is no stranger to technological arms races, having spent much of the Cold War in a two-pronged one-upmanship effort against the Soviet Union to build bigger rockets and land those on the moon. Its rivalry now is with China, and the latest battleground is artificial intelligence.
China has long sought to dominate the AI landscape, laying out a plan to become a "global leader" in the sector by 2030 and pledging billions of state dollars for research and development. U.S. breakthroughs have been more organic, illustrated most recently by the rapid global uptake of chatbots made by American companies, such as Google, Microsoft, and OpenAI, with Chinese counterparts largely playing catch-up. Experts caution, however, that applying the "arms race" framework to the development of AI doesn't capture the global dynamics around the technology.
One fundamental distinction is the private sector's role at the forefront of developing new AI capabilities: There were no private-built rockets in the 1960s. During the Cold War, key technological advances in the nuclear and space sectors were "characterized by a high barrier to entry and a near-monopoly by the state," said Ryan Nabil, director of technology policy at the advocacy group National Taxpayers Union, whose research focuses on AI governance. "AI is characterized by lower barriers to entry, democratized access, and the preponderance of the private sector in driving innovation."
This also isn't a two-horse race. AI development is picking up pace around the world, and the technology's underpinning of everything from email to missile systems raises the stakes significantly. A more useful historical analogy for the current state of AI development may be the revolution that occurred centuries before the space race.
"I think the Industrial Revolution in many ways is a more helpful paradigm," said Paul Scharre, vice president at the Center for a New American Security. "It was this combination of technologies that were mutually supporting, much like we're seeing today with AI and data, the internet of things, mobile devices, wired and wireless connectivity, this whole panoply of technologies."