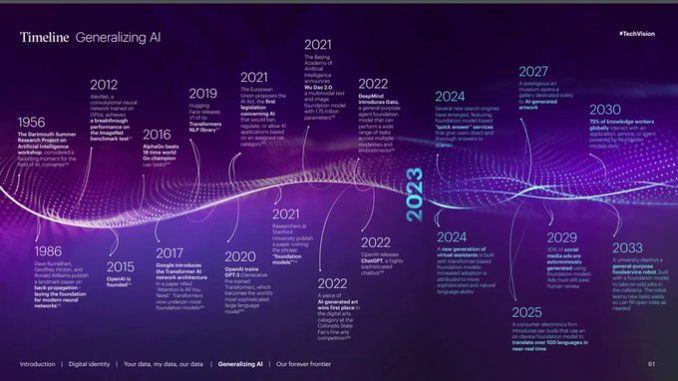 Every business is a digital business. Yet Accenture shows that only 8% of companies are adopting a strategy of total enterprise reinvention.
In the Accenture Technology Vision 2023 Report, researchers examine the movement from the physical to digital world. The report found 96% of executives agree that the convergence of digital and physical worlds over the next decade will transform their industry. And given how disconnected and disjointed our digital and physical worlds can feel, it's no wonder that the next decade of innovative efforts is starting to be defined by how we fuse the two together. An example of this fusion includes the growing trend of cobots (collaborative robots), a market that is set to expand to $16.3 billion by 2028.
Also: ChatGPT's intelligence is zero, but it's a revolution in usefulness, says AI expert
Accenture's 2023 Technology Vision explores the technology trends driving this new reality, and the steps enterprises will need to take to thrive in it. The four technology trends of 2023 are:
Digital Identity – ID for everyone and everything. Digital identity is quietly becoming the key to enterprises' technology aspirations, and efforts to reimagine it are underway — not just for people but for all things.
Your data, my data, our data — Why transparency will become your most precious resource. Data ecosystems are being reshaped by radical transparency as enterprises leverage their troves of data to offer unprecedented insights into their business.
Generalizing AI — The radical edges and possibilities of intelligence. Foundation models are driving one of the biggest step changes in AI history. Now, enterprise leaders can shift from building their own AI to building with AI.
Our forever frontier — The big bang of computing and science. After decades of hyper focus on digital technology, science is leaping back to the top of enterprises' agendas.