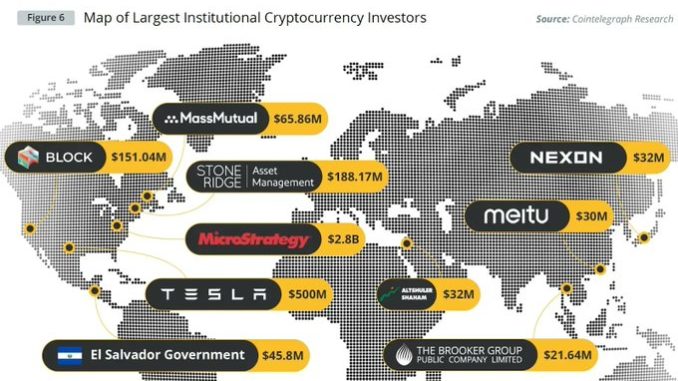 Liechtenstein, Nov.1, 2022 — The annual survey of institutional and professional investor holdings of cryptocurrencies was published by CryptoResearchReport.com in collaboration with Cointelegraph , the largest crypto media company in the world. 
The survey found that 43% of professional investors currently own digital assets , and 19% plan to buy them in the next 12 months. The survey's 84 respondents manage $316 billion in assets, with a whopping $10.42 billion invested into cryptocurrencies. Some professional investors reported over 50% exposure to digital assets, but the respondents' median percentage invested in cryptocurrencies is 3.3%.
The Institutional Demand for Cryptocurrencies Global Survey 2022 Report can be downloaded from the following link:
Crypto Research Report — English
The institutions are here, and they are buying the dip. BlackRock, the largest asset manager in the world with $10 trillion in assets, just announced its second blockchain exchange-traded fund , one month after the debut of its first one. Goldman Sachs took on principal risk in a crypto over-the-counter trade for the first time with Galaxy Digital. Goldman Sachs now has a part of its website dedicated to the investment case for cryptocurrencies and the metaverse. The largest hedge fund in the world with $140 billion in assets under management, Bridgewater Associates, announced it was backing a Bitcoin fund . Fidelity is weighing a plan to allow its brokerage customers — some 34.4 million individual investors— to trade the world's largest cryptocurrency. Citadel, Brevan Howard, Investment Bank Cowen — soon, the list of institutional investors in crypto will be longer than the list not involved. Not only will these institutions bring liquidity to the cryptocurrency space but they also hold significant power in local politics and governments. Finance, insurance and real estate lobbyist groups in the United States spent $539 million in 2020 on influencing regulation and public policy.