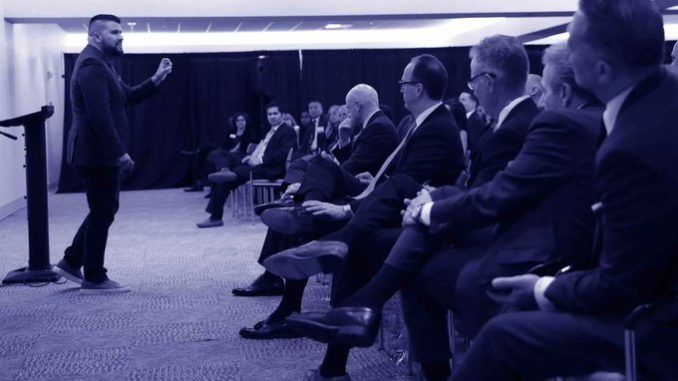 The Data Science Salon is a hybrid conference focused on data scientists, machine-learning engineers, analysts, and data specialists
n 2022 and beyond, emerging technologies such as AI and machine learning will have a lead role in aiding organisations across sectors to meet changing customer needs and accelerate digital transformation. According to Toolbox research, 42% of tech workers believe artificial intelligence will be the most important technological development in 2022.
The need for knowledge exchange has grown significantly in proportion to the rise and rise of the AI/ML industry. AI conferences foster a sense of collaboration and showcase innovation, entrepreneurship, and outstanding leadership across the globe. Though the pandemic had put most conferences on the back burner, most of them are now back with a bang.
To that end, we have curated a list of the most anticipated AI & ML conferences and summits for 2022 that you cannot miss!
March 7, Dubai
The Data Innovation Summit MEA will showcase the top data-driven innovative initiatives, products, business ideas, and technology from the world's top organisations.
March 11 – 20, Texas, USA
The SXSW Conference will have the global digital creatives community talking about cutting-edge ideas, along with an opportunity to network with leading tech experts. The SXSW Conference features 15 programming tracks organised by SXSW Badge priority: Interactive, Film, Music, and Convergence. The new 2050 Track is dedicated to fostering big-picture thinking that pushes the boundaries by demonstrating how innovative thought can be a force for good. The topics covered include radical life extension, quantum physics, synthetic biology, nanotechnology, artificial intelligence, next-generation agriculture, human-computer interfaces, and more.
March 21 – 24, Virtual
GTC is all about discovering and identifying the key elements that drive industrial transformation. Participants will be exposed to the latest AI innovation and learn from the world's greatest minds during this four-day conference and training event. The attendees can learn about cutting-edge technical developments, ground-breaking solutions and research programmes addressing the world's most pressing problems.
March 31, New York City, USA
MLCONF 2022 will begin with a one-day in-person conference highlighting the use of machine learning algorithms and techniques. Previous participants include representatives from tech behemoths such as Google, Amazon, Meta, Spotify, comet, Red hat, Paypal, Nike, Apple, Uber etc.
April 8, Bengaluru, India
Analytics India Magazine's The Rising is the biggest meeting of women leaders in data science. The conference aims to empower women and assist them in developing leadership abilities through a series of speeches and informal discussions.
April 14 – 16, Cannes, France and virtual
WAICF is a hybrid event that deliberates on how artificial intelligence will affect the future of business and society. The event will provide an opportunity to learn about the latest innovations, hear from the world's leading experts, and network with top business decision-makers and leaders.
April 19 – 20, Virtual
Enterprise Data World is considered the world's most comprehensive educational conference on data management. The 27th edition of the conference will offer in-depth training to data-driven professionals from all over the world. It will cover topics like data governance, data architecture, blockchain technology, data integration, data modelling, metadata management, data and information quality, business analytics, data science, big data and enterprise information management, and more.
April 30, Virtual
Analytics India Magazine's Data Engineering Summit is India's first conference dedicated to data engineering innovation. Top engineers & innovators from leading tech companies are expected to talk about the software deployment architecture of ML systems and how to produce the latest data frameworks and solutions for business use cases.
May 4 – 5, Montreal, Canada
The 4th World Summit AI Americas conference brings together the global  AI ecosystem in an interactive conference format. The conference will host over 150 speakers over two days. The speaker lineup includes, Yoshua Bengio, Professor of Computer Science and Operations Research, University of Montreal, Professor Daphne Koller, Founder and CEO, Insitro, Co-Founder, Coursera, Marc G Bellemare, Research Scientist, Google Brain Hassan, and Sawaf, Director, Artificial Intelligence, Amazon Web Services etc.
May 18 – 20, Amsterdam, Netherlands
This three-day conference will offer attendees a master class on creating an analytical model for their businesses. Experts will discuss all aspects of data analysis, including how to work with unstructured data and improve data visualisation and interpretability.
May 27 – 29, Prague, Czech Republic
ML Prague 2022 will host 45 international experts in ML and AI. Over three days, they will deliver talks on machine learning and best practices in AI, hands-on workshops, etc to over 500+ attendees.
June 22 – 23, 2022, ON, Canada
The Big Data and Analytics Summit aims to provide data executives with the most up-to-date information, strategic insights, and best practices in technology, data, AI, data mining, machine learning, risk management, and related topics. In addition, the participants will have the chance to learn how the innovators and executives behind the world's most renowned firms use analytics to extract actionable insights.
June 24, Bengaluru, India
Analytics India Magazine's MachineCon is an invite only conference honouring the 50 most influential AI & data Science leaders in India. The third iteration of MachineCon explores ground-breaking AI innovations and identifies the challenges and successes in the adoption of AI/ML. Rohit Pandharkar, Head of Data Science at Mahindra Group, Himanshu Goyal, India Business Leader – The Weather Company, an IBM Business, and Shailendra Kumar, VP and Chief Evangelist (Analytics & Leonardo) – APJ&GC at SAP were some of the previous speakers.
June 27 – 30, San Francisco, USA and Virtual
Hosted by software company Databricks, the Data+AI Summit 2022 promises keynotes and sessions from tech leaders and visionaries and training and networking opportunities for attendees. Andrew Ng of DeepLearning.AI, Zhamak Dehghani of Thoughtworks, Daphne Koller of Coursera, Christopher Manning of SAIL, and Ali Ghodsi of Databricks are among the expected speakers.
August 22 – 24, Florida, USA
In March, Orlando, Florida, will host the Gartner Data & Analytics Summit. Top data analytics and AI executives will discuss business strategy, technology, and leadership to figure out how to generate value in an "uncertain" future. The conference covers a range of topics via the seven tracks listed below:
·  Leadership and Skills: Be the Change Maker
·  Business Strategy and Value: Optimize Impact
·  Trust, Governance and Privacy: An Urgent Imperative
·  Analytics Everywhere: Better Decisions Realize Value
·  Data Science and Machine Learning: Unleash Innovation
·  Artificial Intelligence: Delivering Value at Scale
·  Data and Analytics Architecture: Your Digital Acceleration Ecosystem
·  Emerging Technologies and Trends: Reach Beyond
September 21 – 23, Bengaluru, India
Cypher is the flagship conference of Analytics India Magazine that aims to bridge the AI community across industries. The three-day event is one of India's largest AI conferences featuring 100+ speakers and 300+ organisations. Devi Shetty, Chairman and Executive Director of Narayana Health, Arpit Agarwal, Head of Data Science at Meta, and Piyush Chowhan, Group CIO at LuLu Group were some of the past speakers.
November 10 – 11, Washington, USA
The conference explores the ways machine learning and deep learning can responsibly and practically enhance people's lives. Topics covered include attaining environmental sustainability, increasing access to education and healthcare, reducing AI bias, and improving transparency.
December 1 – 2, London, UK
The conference will highlight cutting-edge AI and Big Data technologies and techniques. It will allow attendees to learn about and explore how to successfully apply big data and AI in their businesses. 5,000 people from various industries are expected to attend the conference, including IT decision-makers, startup founders, tech providers, data scientists, data officers, heads of innovation, venture capitalists, and others. Over 100 presenters and 125 exhibitors will attend the AI and Big Data Expo.