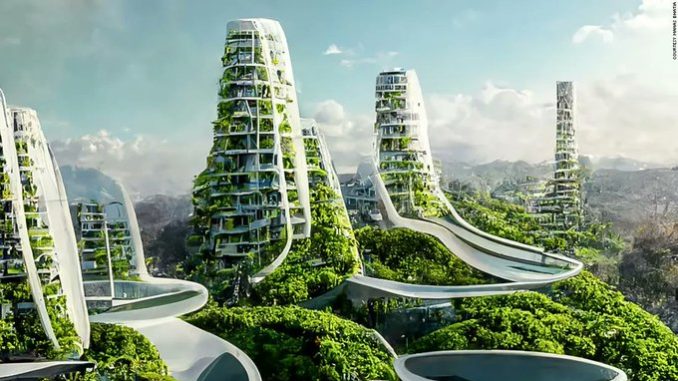 Manas Bhatia has a bold vision of the future — one where residential skyscrapers covered in trees, plants and algae act as « air purification towers. »
In a series of detailed images, the New Delhi-based architect and computational designer has brought the idea to life. His imagined buildings are depicted rising high above a futuristic metropolis, their curved forms inspired by shapes 
found in nature
.
But the pictures were not entirely of his own imagination.
For his conceptual project, « AI x Future Cities, » Bhatia turned to an artificial intelligence imaging tool, Midjourney, that generates elaborate pictures based on written prompts. Using a series of text descriptions — featuring phrases like « futuristic towers, » « utopian technology, » « symbiotic, » and « bioluminescent material » — Midjourney yielded a series of digital images that Bhatia further tweaked by honing the prompts.
Bhatia said it can take up to 20 minutes to make each of the surreal artworks. He refined his descriptions almost 100 times per project, editing and adding to the text until he achieved the desired results before cleaning up the images using Photoshop.
« The trial-and-error part is the most fun, » the architect said over the phone. « We use AI to create images and, in the process, the AI trains itself and improves over time. »