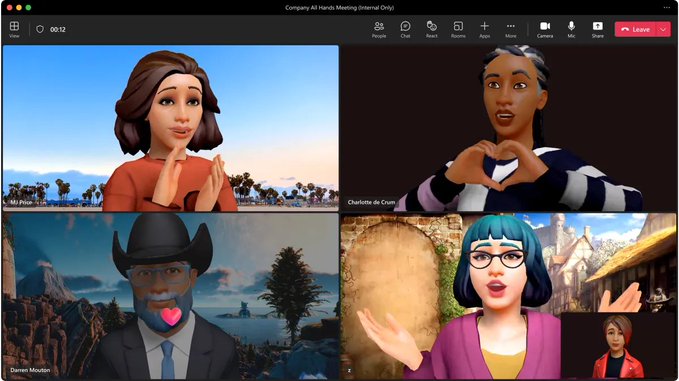 At its Ignite conference this week, Microsoft announced updates heading to Teams, its ever-evolving videoconferencing and workplace collaboration app. New avatars are available, and more details were announced around Teams Premium, a paid set of Teams features including AI-generated tasks and meeting guides, which is set to arrive in December in preview.
Teams Premium is an effort to simplify Teams pricing, which before was disparate across several tiers. Microsoft says it expects it to cost $10 per user per month, with official pricing to come once Teams Premium is generally available. That's higher than the lowest-cost Google Workspace plan, which costs $6 per user per month, but less expensive than Zoom Pro ($15 per user per month).
The aforementioned avatars — a part of Microsoft's Mesh platform — allow users to choose customized, animated versions of themselves to show up in Teams meetings, a bit like Zoom's virtual avatars. Through the Avatars app in the Microsoft Teams app store, users can design up to three avatars to use in a Teams meeting with gestures to react to topics.
Microsoft's CVP of modern work Jared Spataro pitches avatars as a way to "take a break from the camera" but "still have a physical presence" in Teams meetings. "Our data shows that 51% of Gen Z envisions working in the metaverse in the next two years," he wrote in a blog post — a percentage that seems optimistically high if we're talking about VR and AR headsets, but depends on how one defines "metaverse." He continued: "You can create custom avatars to represent yourself."