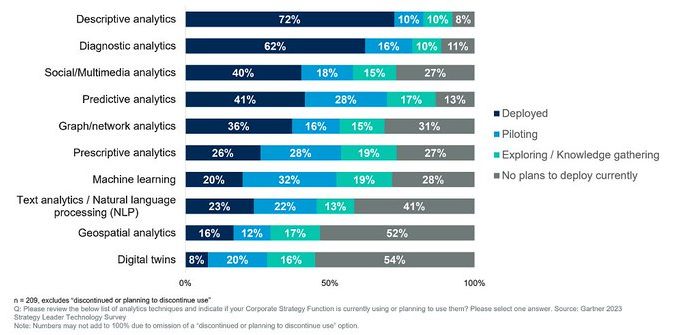 A new survey conducted by Gartner has revealed that as many as 79% of global corporate strategists see AI, analytics and automation as critical drivers for success over the next two years.
Conducted between October 2022 and April 2023, the poll highlights enterprises' growing focus on next-gen technologies. Now, companies are looking at advanced systems not only to handle repetitive or basic tasks but also high-value projects directly related to business growth, such as strategic planning and decision-making.
Gartner interviewed nearly 200 corporate strategy leaders for the survey, covering companies serving different industries in North America, Western Europe, Asia-Pacific, Australia and New Zealand.
The wide possibilities
Even though just 15% of strategic planning and execution activities are currently automated, survey respondents expressed high levels of optimism about the possibilities that lie ahead. In fact, most said that on average, 50% of these activities could be partially or fully automated in the near future.