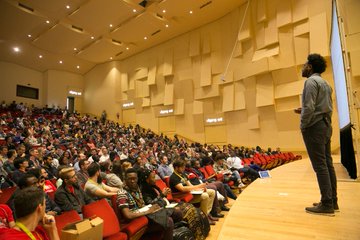 – AI used to tackle poverty, translate languages
– African data seen vital to fighting racial bias
– More funding, wider digital access needed, say developers
By Kim Harrisberg
DURBAN, Feb 16 (Thomson Reuters Foundation) – Determined to use her skills to fight inequality, South African computer scientist Raesetje Sefala set to work to build algorithms flagging poverty hotspots – developing datasets she hopes will help target aid, new housing or clinics.
From crop analysis to medical diagnostics, artificial intelligence (AI) is already used in essential tasks worldwide, but Sefala and a growing number of fellow African developers are pioneering it to tackle their continent's particular challenges.
Local knowledge is vital for designing AI-driven solutions that work, Sefala said.
"If you don't have people with diverse experiences doing the research, it's easy to interpret the data in ways that will marginalise others," the 26-year old said from her home in Johannesburg.
Africa is the world's youngest and fastest-growing continent, and tech experts say young, home-grown AI developers have a vital role to play in designing applications to address local problems.
"For Africa to get out of poverty, it will take innovation and this can be revolutionary, because it's Africans doing things for Africa on their own," said Cina Lawson, Togo's minister of digital economy and transformation.
"We need to use cutting-edge solutions to our problems, because you don't solve problems in 2022 using methods of 20 years ago," Lawson told the Thomson Reuters Foundation in a video interview from the West African country.