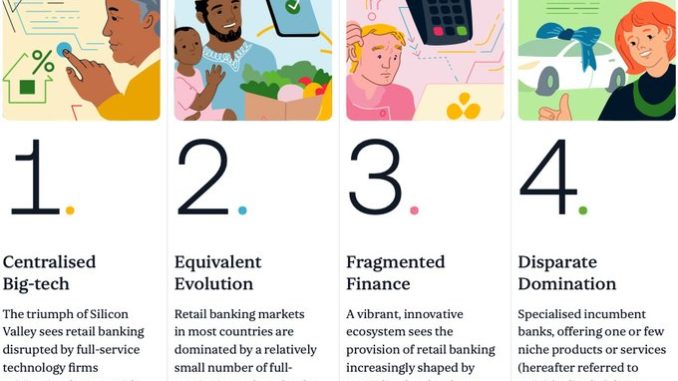 The world of retail banking is set for change in the coming years, with niche players, neobanks, FinTechs and big techs all seeking to grow their slice of the cut. A new report has hinted at four futures for the sector that these trends could result in.
Throughout the banking sector, new challenger banks and FinTechs are attacking business models, with newcomers rapidly making inroads into the sector's profits by offering agile, digitalised alternatives. In retail banking, the disruption of challenger banks is visible across the value chain, from customer contact and lending to mortgages, payments and alternative financing.
PA Consulting asked 600 executives from across the industry to share their insights. Opinions differed between key markets – while 66% percent of leaders from the Netherlands expected full-service banks to dominate by 2030, for example, in the UK that figure was just 34%. Meanwhile in Sweden, one-third of business leaders expected to see big-techs dominate, the same number as full-service banks. But from those conflicting insights, PA has drawn up four potential outlooks for retail banking in 2030.
Centralised Big Tech
Big Techs, also known as the Tech Giants, are the most dominant companies in the information technology industry. Most notably, these include the five largest American tech companies: Alphabet, Amazon, Apple, Meta, and Microsoft. A 57% chunk of leaders around the world said they felt that the emergence of these players as financial leaders would threaten the existence of banks as they currently exist.