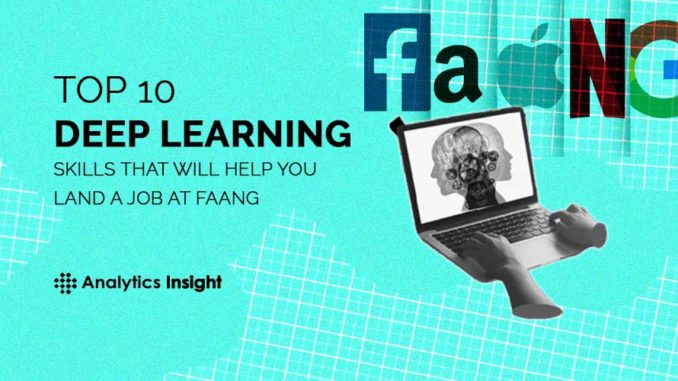 Read on to find out more about the key deep learning skills in demand for FAANG.
Deep Learning is the subset of Machine Learning that primarily deals with Neural Networks. Deep Learning skills are the key skills that students today need to be able to thrive in the global economy. Deep learning skills can help them land prestigious job positions at FAANG companies. FAANG is an acronym that indicates the stocks of five prominent American technology companies: Facebook, Amazon, Apple, Netflix, and Google. Read on to find out more about the key deep learning skills in demand for FAANG.
Spark: Learn the fundamentals of Spark, the technology that is revolutionizing the analytics and big data world! Spark is an open-source processing engine built around speed, ease of use, and analytics. Spark allows applications in Hadoop clusters to run up to a hundred times quicker in memory and ten times faster always while running on disk.
Software Development: Software development involves the design and maintenance of solutions and systems for several platforms. Two popular specializations are software development for mobile operating systems and website development. Web developers, on the other hand, need to be skilled in SEO and SEM. Popular jobs in this sector include UX designers and Android mobile developers.
Signal Processing Techniques: Signal processing is another desired skill that organizations may look for in professionals. It may include time-frequency analysis, convolution, Fourier Analysis, and other deep learning concepts. These techniques enhance storage efficiency, transmission, and quality, and detect some components in a signal.
Programming languages: Specialized knowledge of programming languages is in increasing demand with continuous technological advancement. The demand for programming as a skill is expected to grow 22% by 2028, making it a career with a wide range of opportunities in FAANG companies.
Cluster analysis: Cluster analysis is the task of grouping or grouping items. This is done in such a way that the objects in the group are more similar to each other than to those in another group. It will give you a wider scope, and you can develop your career in FAANG companies.
Cloud Computing: Cloud computing essentially involves storing and delivering data, programs, and other computing resources over the internet. Cloud experts and cloud engineers need to plan, design, develop and maintain cloud computing solutions. Some of the in-demand tech qualifications include certification in Amazon Web Services and Microsoft Azure. Careers in this FAANG sector include cloud security engineers, data science engineers, cloud architects, and cloud consultants.
Neural Network Architectures: Neural networks are the predefined set of algorithms for implementing deep learning tasks. They offer a class of models and play a key role in deep learning. Neural networks let one understand how the human brain works and help to model and simulate an artificial one.
Cybersecurity: Cybersecurity is a collection of technologies, processes, and services responsible for the protection of networks and devices from unforeseen attacks and unauthorized access. Cybersecurity specialists need to be skilled in information security, network security, and vulnerability assessment. Promising careers in this sector include ethical hackers, cybersecurity analysts, and security engineers.
Hadoop: Hadoop is designed for beginners and professionals. Hadoop is an open-source framework