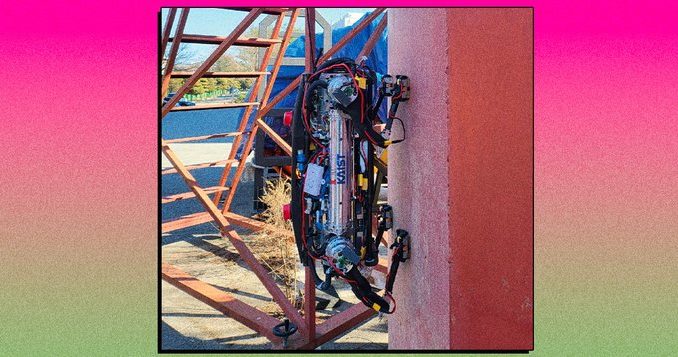 There's not a lot of burgeoning tech out there that so often vacillates between being cute and absolutely horrifying as robodogs. In a further baffling twist, they're now able to, uh, climb walls like giant bugs.
Yes, you heard that right. Researchers at the Korea Advanced Institute of Science and Technology have developed a four-legged robot that can climb up iron and steel walls and ceilings, as described a study published in the journal Science Robotics on Wednesday. They call it MARVEL, short for Magnetically Adhesive Robot for Versatile and Expeditious Locomotion, and it only weighs about 18 pounds and isn't any larger than a tiny puppy at roughly 13 in long.
MARVEL isn't the first robot that can climb walls, but unlike most others, it makes use of magnetic legs rather than wheels, grippers, suction cups, or propellers.
It's also seriously dexterous, its designers say, adroitly navigating curved surfaces like that of a rusted metal storage tank, in part thanks to its innovative feet that use electro-magnets and a cutting edge, rubber-like smart material known as magnetorheological elastomers.