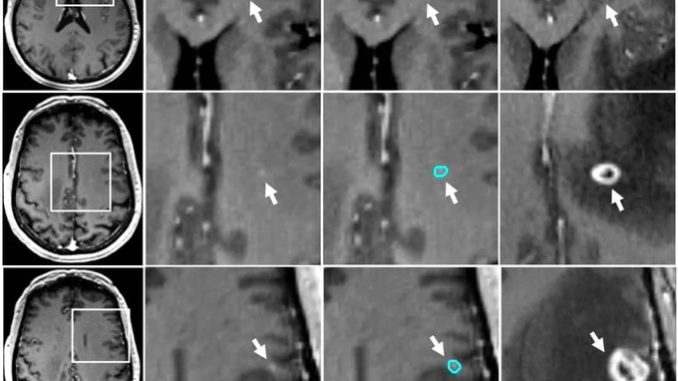 Researchers at Duke University Medical Center have developed a deep-learning-based computer-aided detection (CAD) system to identify difficult-to-detect brain metastases on MR images. The algorithm exhibited excellent sensitivity and specificity, outperforming other CAD systems in development. The tool shows potential to enable earlier identification of emerging brain metastases, allowing them to be targeted with stereotactic radiosurgery (SRS) when they first appear and, for some patients, reducing the number of required treatments.
SRS, which uses precisely focused photon beams to deliver a high dose of radiation to targets in the brain in a single radiotherapy session, is evolving into the standard-of-care treatment for patients with a limited number of brain metastases. To target a metastasis, however, it must first be identified on an MR image. Unfortunately, approximately 10% are not, 30% for those less than 3 mm in size, even when reviewed by expert neuroradiologists.
When these undiscovered brain metastases – which the researchers refer to as retrospectively identified metastases (RIMs) – are identified on subsequent MRI scans, a second SRS treatment is usually needed. Such treatment is expensive, and can be uncomfortable and invasive, sometimes requiring head immobilization with a frame secured to the skull by pins.