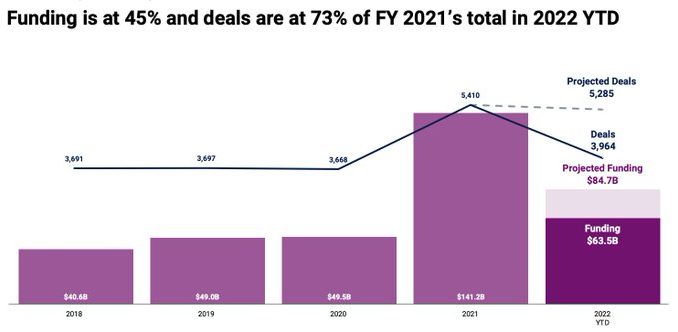 After experiencing record investment volumes in 2021, venture funding is dropping significantly this year amid hiking inflation rates, political instability and tanking stock prices. Investors are scaling back their investment pace significantly, and though many startups are still holding strong and enduring the chaos, dozens have shut down.
Since the beginning of the year, at least 11 fintech companies have closed down, according to CB Insights. A majority of these startups folded due to their inability to raise fresh capital, as was the case for proptech startup Reali and neobank Bank North, while others, like Neufund and LendUp, crumbled in the face of regulatory pressure and legal issues.
Of the 11 fintech startup failures reported, four of them – CommonBond, Reali, Volt Bank and LendUp – were rather large and costly ones, involving startups that had raised US$100 million and up, the data show.
Student loan lending startup CommonBond, which had secured a total of US$1.3 billion in disclosed funding, said in September that it will be "winding down" its operations after its core businesses took a major big during COVID-19.
Reali, a real estate and fintech platform that had raised US$292 million in funding, announced in August that it will begin a shutdown and will be laying off most of the workforce on September 9, citing "challenging real estate and financial market conditions."
In Australia, Volt Bank, the first exclusively online bank to secure a banking license in the country, said in June that it would shut down, returning deposits and selling its mortgage book after failing to raise sufficient funds to support the business. The digital bank had raised US$102 million.
Finally, LendUp, a payday lending company, was forced by the US Consumer Financial Protection Bureau to cease making new loans and collecting some outstanding loans in December 2021 for "repeatedly lying and illegally cheating its customers," the regulator said. LendUp had secured US$366 million.