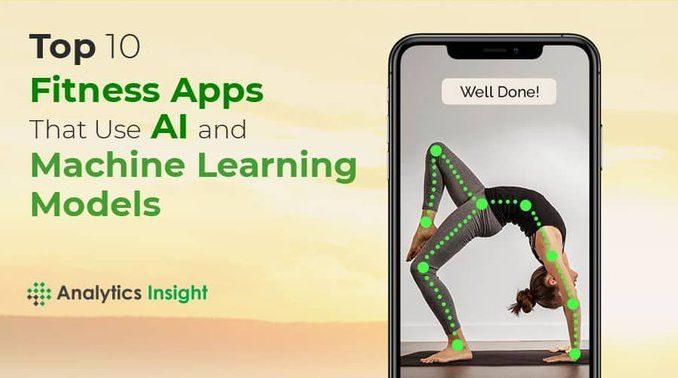 Top fitness apps are built mainly on artificial intelligence (AI) and machine learning models.
In the 21st century, artificial intelligence (AI) and machine learning are becoming commonplace. Both are becoming more important components of current workout routines. AI has become intrinsically connected to health and fitness. AI, according to technologists, improves everything. When it comes to fitness, it has the potential to empower the app by dramatically increasing engagement, which may lead to long-term income. The AI-enabled apps can give users a variety of advantages. It may save money for a fitness enthusiast, for example, because an artificial intelligence fitness trainer is less expensive than a human trainer, but joining a gym might be expensive or impossible to integrate into our busy life. In addition, AI-powered fitness software may make a workout more interesting and enjoyable. Here, we will mention top fitness apps which work on AI and machine learning models.
FitnessAI
FitnessAI is an app that uses artificial intelligence to develop personalized training programs for each user. This app began as a gym-only app, but it recently shifted gears to accommodate the growing demand for at-home exercise. Simply, every time a user works out, FitnessAI optimizes weight lifting sets, repetitions, and weights for each activity, pushing them to grow muscles effectively. In other words, the example of this app demonstrates how machine learning might be used to create a fitness schedule. According to the seller, this software's algorithm has been trained on 5.9 million exercises. Over three years, 10 million sets, repetitions, and weights were collected from over 30k expert weight lifters and gym visitors. The app is said to contain one of the world's largest weightlifting databases and promises to outperform any human personal trainer.
Freeletics:
Freeletics, unlike FitnessAI, does not promise to be better than a human trainer. Despite this, it is advertised as Europe's #1 fitness app, allowing users to work from anywhere while receiving AI-assisted physical fitness instruction. The app's coaching algorithm provides exercise and nutrition advice based on user input, scientific research, and personal preferences. Over 3.5 million distinct options are reported to be used to generate a customized exercise. According to Freeletics' CEO, 85% of customers enjoy the workouts that the AI generates, calling them "perfect" afterward. Freeletics features a community page where users can interact, exchange successes, and inspire one another in addition to fitness coaching.