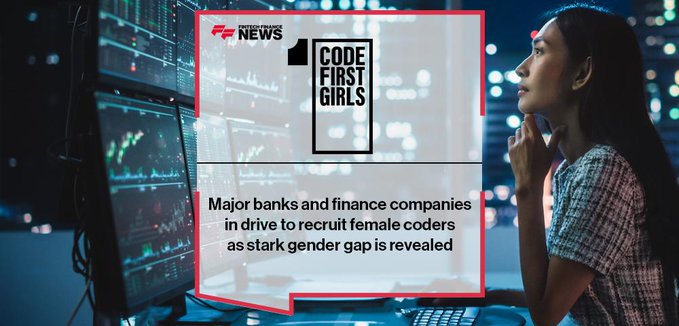 The banking and financial services sector is the industry most keen to attract female coders into their workforce, data reveals today (12 December), as Starling Bank and Lloyds Banking Group become the latest major finance companies to actively search for female tech talent with Code First Girls – the largest provider of free coding courses for women in the UK.
They join 26 other banks and financial services companies, including Blackrock, Morgan Stanley, NatWest, Goldman Sachs, and Bank of America, in partnering with Code First Girls – the UK's largest provider of free coding courses for women. The financial sector is the largest and fastest growing proportion of Code First Girls' hundred-strong client list, with fintechs and traditional banks alike keen to hire more women.
Meanwhile new analysis of the latest ONS Labour Force Survey reveals that women make up only 18% of computer programmers and software development professionals, web design professionals, and data analysts in the UK. There is also a significant gap in the finance industry with new analysis showing women make up just 30% of UK brokers, financial analysts and advisers.
This news comes as Anna Brailsford, CEO of Code First Girls, joins the Advisory Panel for the Women in Finance Charter – a commitment by HM Treasury and signatory firms to work together to build more gender balanced teams across the financial services sector. In this role, Brailsford will play a vital role guiding the UK's biggest employers on best practice to recruit and progress women.
Female-founded business Code First Girls is seeing an increasing number of women looking beyond roles offered by big tech firms, with organisations across all sectors needing tech talent. A recent survey by Code First Girls of more than 1,200 women showed that Goldman Sachs, NatWest, and Barclays feature in the top ten companies that female coders most want to work for. However, they still remain behind the dominant tech companies – Google, Spotify, Apple, Meta, Microsoft and Amazon – in popularity.